The Real Estate market here on Maui is showing signs of heating up as we head into the high season.  Mirroring the activity on the Mainland and Western Canada Inventory is dropping with both the number of Pending Sales and Median Sales Price figures climbing.  What this is indicating is buyers are active and taking advantage of lower interest rates before they increase more.  In some areas on island multiple offers are starting to appear as well.  Well priced properties are selling quickly while properties that are priced above the market are still sitting.  Overall the island is looking at about a 5 month supply making this a more Neutral to a Sellers Market but as the inventory drops we could be slipping more securely into a Sellers Market.
Overall Market
The market has been quietly moving along on Maui with the volume of Homes on the island increasing 35.4% for the month.  Condominium sales also showed a healthy increase coming in at 38% over last month and 9.9% for the year.  A lot of this can be attributed to new projects that have been under construction have started to close, so expect to see more of this over the next few months.
Sales prices are continuing their steady climb of the last few years with the median value of homes increasing 9.4% to $695,000 year to date.  Condominiums also showing strong gains with a median value of $450,000 for a 7.1% gain year to date.
Inventory has dropped steadily for the resale of existing units on the island.  The year to date figures show a distinct picture.  The total Active inventory of for Homes on island is down -10.8% for the month with Condominiums showing a -22.3% drop which figures out to about a 5 month supply.  Pending Sales show a strong increase of 10.6% for Homes and 14.4% for Condos. (See the graphs of supply and pending sales).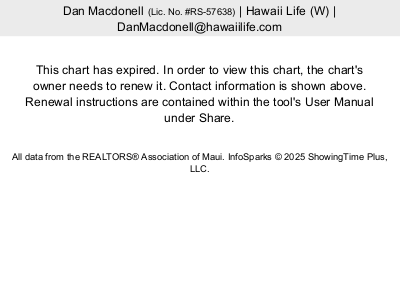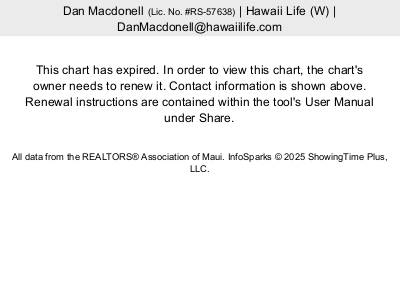 What this suggests is we have strong interest from buyers with not as many properties to choose from.  It appears the pendulum is slowly swinging towards a Sellers Market.  Do keep in mind that the market on Maui is much different than the Mainland or even Oahu.  Our Average Days on Market usually hovers around 150 Days which is longer than either of those two other markets.  If you are planning to sell a home, this is a good time to start considering going on the market.  Mortgage Interest rates are starting to creep up which could slow things some and the Fed is indicating that they will be tightening up monetary policy more.  A new Fed Chairman has been nominated but don't expect much of a change in the current policy as his opinions are very similar to the existing Chair.
Wailea Market
Diving into the local markets the numbers are similar.  Wailea Home sales are up 21.1% with Condos taking off with a 29.7% increase in sales over last year.  For new construction Keala o Wailea will start closing on the first units this coming December, so expect to see a bump in yearend volume soon.
Home values are showing -37% drop of the Median Sales Price to $2,395,000 but the Average Sales Price increased 7.9% in Wailea to a strong $4,529,130 for the year.  This has a lot to do with the wide range of home values in Wailea and Makena and there have been 5 sales over $9.5 Million with one topping $15.5 Million.  Condos are showing a slight drop in the Median of -2.3% but strong increase in the Average Sales price of 19.3% to $1,708,044 for the year.
Inventory is showing the same picture with Homes down -11.4% and Condos -22%.  Pending Sales for the year are flat with Condos showing a respectable 20.8% gain.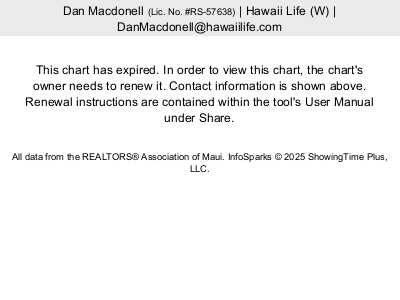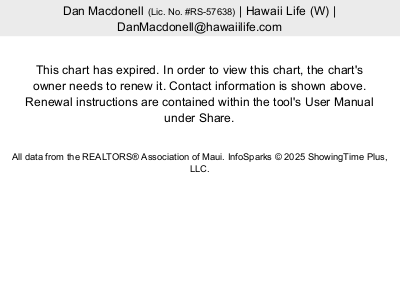 Kihei Market
Moving little north but still on South Maui is Kihei.  For the year to date Homes are showing a 15.4% gain in the Median Sales Price to $715,450 on a smaller volume of closed transactions down -6.6% for the year.  There is a surge of available homes with a 20.8% increase in New Listings over the same period of last year with the same for Pending Sales up 11.8%.  Inventory is inching down to a 4.5 month supply as a result of this activity.
Condos are showing the same trend with a 11.3% increase in the Median Sales Price to $378,250 with the Average up to $469,436 with a strong 9.6% increase.  Inventory for condos is down -34.3% from the same period last year giving us a 3.4 month supply.  Condo owners in Kihei might consider locking in any gains from the last few years or maybe consider a IRC1031 Tax Deferred Exchange into another property.
Other Maui Markets
Each area on the island has it's own particular story.  Some areas are resort oriented while others are purely residential.  The location on the island has a large bearing on that particular market.  However, the trends we are seeing are similar across Maui.
Conclusion
From the numbers for October and Year to Date the overall trend is Buyers are getting more  active especially for condominiums in the resort areas of South and West Maui.  Interest rates are increasing slowly but not enough to impact buyers.  The inventory continues to drop with a 5 month supply on the market with a 158 Days on Market Figure for the total market.  Two key figures to watch will be the inventory dipping to a 3 month or less supply signaling a Sellers Market (low inventory, high buyer demand).  The other figure will be that Days on Market number.  If it starts going up that could indicate the Buyers are not participating.  This could come around due to higher interest rates or other external factors.  For now things are looking good.
Timing any market is hard whether it is stocks, commodities or real estate.  What the numbers are saying for Maui though is Now is the Time.  For Sellers, it's time to lock in those gains and for Buyers the timing won't get any better to finally get a home here on Maui.  If you want me to provide a custom valuation or statistics for your area please contact me and we can discuss your needs.  Dan@MauiHomeBuyer.com phone or text 808-281-9588 .  Please visit my website www.MauiHomeBuyer.com